Sometimes, you truly feel lucky when you get the right conditions for photographing fall landscapes. Fall lasts only for a few weeks in some regions. It's always a pleasure watching all those beautiful colors of fall merge with the natural lights and weather conditions.
As the fall season is short, you'd want to make the most of it by indulging in some serious fall landscape photography. There are some elements involved in photographing fall landscapes that you must know, especially if you're a beginner. Let's take a look at some of them:
1. Light
One of the most fascinating aspects of fall is that the season looks great in all types of light. Nevertheless, the presence of good light is absolutely necessary. The best light for photographing fall landscapes is the one that you'll have around sunrise and sunset.
Both partial and full sun images look spectacular during this season. You'll find the foliage color deepening beautifully with sunlight. Give yourself the chance to experiment with light. You can consider taking the photos in unusual lighting conditions as well.
2. Location
Not all places will have an abundance of fall colors. This is why your choice of location matters a lot in fall landscape photography. The right approach for this would be to research and go scouting for ideal locations. This is especially necessary if you're looking for a specific element, such as fall color.
Elevation is also worth considering while choosing your location. Foliage situated at higher elevations are the first to begin changing color. You must also take the moisture levels into consideration.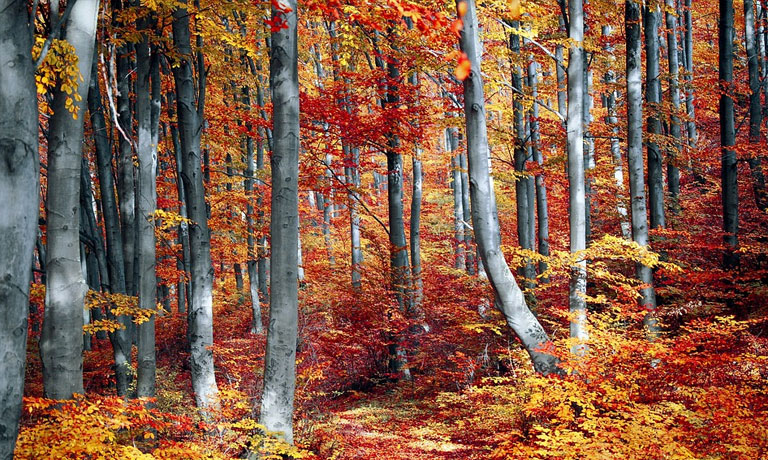 3. Panning
This is a technique of freezing objects that are in motion. You can get a bit creative by trying something abstract during fall. Panning is one of the ways to do it. The inherent blur of color in panning will offer a splendid alternative to the traditional landscape photo. You can use a tripod when you're panning vertically as it helps in keeping the horizontal lines straight.
This would need a slower shutter speed. The amount of blur in photos depends on the shutter speed of your choice. It also depends on the rate at which you've panned your scene. You can experiment as much as you want as there are no rights or wrongs in photographing fall landscapes.
4. Mood
Don't miss the opportunity to photograph a fall atmosphere that's moody. The inherent color pop in fall looks absolutely stunning when combined with blue skies or fog. You can utilize dewy mornings, cooler days, patches of fog, and rainy or snowy days.
They help in putting a lot of drama into your photos of fall landscapes. Try to use a polarizer when the day is cloudy. It helps in cutting through an atmosphere that's hazy. A polarizer deepens the vibrancy in fall foliage with colors as well. You can also consider having long exposure for adding some extra drama.
5. Night
Fall can be a wonderful time to take some brilliant photographs under the night sky. There's truly something magical about photographing after sunset. You'll enjoy the quiet environment and stillness along with those twinkling stars. One of the things that complements dark blue sky is the yellow foliage.