You'd probably agree that sunsets are among the most pleasing natural features worth photographing. It, therefore, doesn't come as a surprise that sunset photography is immensely popular among landscape photographers. However, you'd certainly need to do something special to make the image stand out from the crowd.
Although one comes across many photos of sunset, only a few can be considered excellent. You'll need to click sunset photographs that appear professional to make an impact. One good thing to know is that you don't need to do something extraordinary to achieve this. Consider using these fabulous tips for photographing sunsets:
1. Find out the position of the sun
When you're photographing sunset, you must know the sun's position to get an idea about the light. Of course, luck plays an important role in photography, but you must do your bit as well. This is one of the factors you need to pay attention to.
It will certainly increase your chances of getting some impactful photos of sunset. Knowing the position of the sun will help you shoot your subject in the most appropriate way. You'll be able to decide whether to shoot directly into the sun, get the sidelight, or the backlight.
2. Reach early and be prepared to stay late
Sunset photography is not that simple as it appears to be. One can't just show up, take some snaps, and go back with fantastic photos. If there's such a possibility, it's something quite rare. Not many photographers will have such lucky instances. The usual way is to arrive at your chosen location early and stay late.
This will increase your chances of walking away with some great photographs of the sunset. How early you should reach your location greatly depends on the location itself. If you've never visited the place, you might need to arrive much earlier. You'll also need to set everything up and wait for the best light to show up.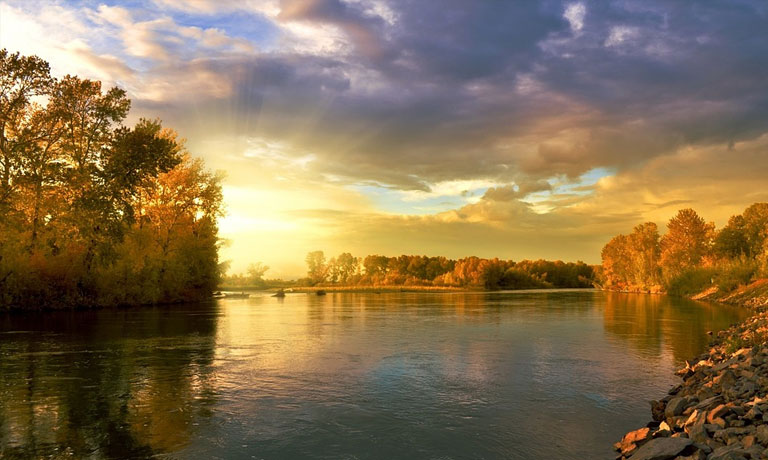 3. Avoid the unwanted flares of the lens
Lens flares can take away the most charming aspects of your sunset photograph. You'll find it hard to avoid them, especially when you're shooting towards the sun. It won't be wrong to say that lens flares are one of the worst enemies of those photographing sunsets.
There are three methods you can use to avoid these unwanted flares. One is to use a lens hood. The other method is adjusting your perspective until the sun goes out of the frame. The third method is capturing two or more images that can then be blended together after processing.
4. Try different shutter speeds
Even some slight adjustments made in shutter speeds can create a significant impact in sunset photography. This makes the shutter speed one of the most important camera settings for capturing creative images. You'll never have an exact blueprint of which shutter speed works the best. It's all up to you. There can be a lot of differences between images clicked with different shutter speeds.
A photograph with a slower shutter speed may look much more enchanting. In some cases, a photograph with a higher shutter speed may appear fascinating. So, it's necessary that you experiment with different shutter speeds. This will give you an idea about what works best for your photos.